SWIMMING
: 60 lengths. That's 1500 meters to you and me, Russ. That's just under 1-mile. Ya know, I read recently in a triathlon training book about reaching "aerobic maintenance" and the book claimed that once you reach this level and can keep a relatively good pace, and your heart rate stays about 140-160 beats-per-minute, you can likely do said activity for as long as you want. I thought that was b.s., but I gotta say ...it's totally right. I stopped at 60 lengths because my lunch-hour was over, but I really could've kept going. I wasn't tired, wasn't slowing down, wasn't cramping, and sharks were leaving me alone.
RECORDING
: With a Tivo, next year. I've mentioned it before, and I'll say it again ...I
hate
my DVR. I've had Tivo for years and the box finally died, and DirecTV can only offer their own version. It sucks. I'm sure some people like it, but it sucks. I get mad when using it. But,
earlier this month, Tivo and DirecTV renewed their relationship
and an HD Tivo and Tivo service will be back in my home the minute it becomes available.
WRITING
: Recaps. When the teacher asked, "who wants to recap
Survivor
and
The Amazing Race
, I raised my hand high in the air and yelped like
Welcome Back Kotter
's Horshack. Tonight, we'll all enjoy the two-hour season premiere of
Survivor: Gabon
and, hopefully, tomorrow you'll enjoy my recapping of the nonsense therein. Do I love
Survivor
? Yes, yes I do. I'm keeping my fingers crossed that the first reward challenge will involve swimming and untying of things. Worried you'll forget about my recaps?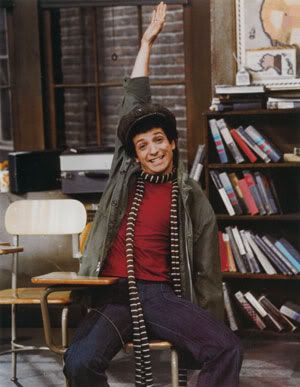 Worry not. I'll remind you. Look for spam in your inbox, tomorrow.
FIRING
: Matt Millen. Though the Detroit Lions and the Michigan State Spartans bring me great joy, heartache, and entertainment, and I'm a huge fan, most times they aren't blog worthy ...well ...because they don't lend themselves to talking about myself. Well ...because the Lions fired General Manager, Matt Millen, I'm kinda excited about the Lions, again.
FANNING
: The flame of Javon Ringer's Heisman campaign. He's a little-known running back from a fairly mediocre football school, but Javon Ringer's dominant performances of the past 3 weeks are getting him some attention.
I think the notariety, size, and reach of my blog should put his name firmly into the Heisman Trophy conversations. He's awessssssssome.
MISSING
: My family. When you have an awesome, glamorous job like I have, sometimes you are forced to dine out and socialize, and typically, toddlers and families are not invited. Tonight, I'm looking forward to a night like I imagine the "common man" enjoys. I might even have a beer and "chat up" my neighbor.